Welcome to Westbury on Trym
Church of England Academy
Welcome to our Website where you will find lots of information about our Academy as well as examples of our work.
Take a look at our Year Group Pages and see some of the beautiful work our pupils have been doing, or perhaps you would like to know more about a subject matter.
If you need more information about any of our policies or documents then please download them from the Parents Section of our website.
Whether you are a prospective parent looking at Primary Schools or whether you are already part of our community, we hope that the website will provide you with an insight into Westbury on Trym Church of England Academy.
Our School officially became an Academy in August 2011, which means we remain a state funded school under the aegis of the central government rather than the local authority.
Striving for Excellence, enriching our Faith,
cherishing our Community
WoT Academy @WoTAcademy
06:28 Did you know it was #WorldPenguinDay
26 Apr RT @PerformUK: @WoTAcademy Thank you for having us. We had such a lovely time.
26 Apr https://t.co/ySRnTzCjNl
26 Apr RT @teshelen: The floss dance is sweeping schools, have you succumbed? @tes https://t.co/dRPahetnz5
26 Apr Well done from all @WoTAcademy https://t.co/WMoYgZm1mQ
26 Apr RT @VictoriaHirst1: @WoTAcademy @PerformUK Lauren came home very enthusiastic so must have been great fun!
25 Apr Today, @WoTAcademy have been involved in a Dance Workshop courtesy of @PerformUK. The children explored different m… https://t.co/4K1RUwFpX4
25 Apr #dance #keepfit @Stagesdancefest https://t.co/T817XTvWsd
24 Apr @WoTAcademy 5-a-Side Leagues Update #WoTSport 708 (Year 6) vs. Lol's (Year 5) 1-5 Sideman Juniors (Year 5) vs. Mango Fries (Year 6) 13-0
24 Apr Unfortunately @WoTAcademy's Year 5/6 Girls Football Team lost in the final against Elmlea 1-0. What a fantastic gam… https://t.co/6x6xmXh2AX
Latest Calendar, Wots on at WOT Events
Westbury on Trym Academy Choir and Bristol Male Voice Choir

27

Apr

2018

7:30 pm - 9:30 pm @ Holy Trinity Parish Church

Pre loved Sale

28

Apr

2018

1:15 pm - 2:15 pm @ Westbury on Trym Academy

Preloved sale Childrens' BiG preloved and recycling Event to be held at Westbury on Trym Academy on SATURDAY 28TH APRIL 2018 1.15- 3.15pm Come along and sell your preloved baby and childrens' items, local artisan and recycled crafts, take away treats for grown ups and fun workshops for children! A real family event! If you would like a pitch to sell your preloved items, please email kate3.cheekimonkeys@gmail.com or pm me. If you want to grab a bargain, just pop along on the day. Hope to see you there! https://www.facebook.com/events/189039438527040/

School Closed for BH

07

May

2018

Percy Smith Gala

09

May

2018

7:00 pm - 9:00 pm @ Horfield Leisure Centre

Community Fayre Holy Trinity Parish Church

12

May

2018

Year 6 Sats

14

May

2018

12:00 am - 17 may, 1:00 am

Pre School Session

14

May

2018

1:30 pm - 2:30 pm @ Westbury on Trym CofE Academy

Pre school session for children starting Reception September 18

Spring Disco

18

May

2018

Spring Disco - Friday 18th May
NEWS JUST IN...................
On Wednesday 14th March, WOT entered two teams in the National inter-school general knowledge quiz.
It became the battle of westbury as both teams took it in turns to be either 1st or 2nd.
Finally westbury 2 won with an impressive score of 1735 points, over 100 points ahead of the team in 3rd place. Westbury 1 came a very close 2nd!
The winning team members were, Daniel Smith Year 6, Olivia Clark year 5,Nicholas Proctor year 4 and Grace Harris year 3. "it was really fun but competitive" remarked Olivia "it was very tense" explained Nicholas, Grace confessed she was a little nervous but excited, whereas Daniel as a quiz pro, having taken part in 5 previous quizzes, just took it in his stride. Well done team!
Well done also to team westbury 1 who were only just pipped at the post. Their team was Rory Davison year 6, Issie Lloyd year 5, Jennifer Horner year 4 and Ruhi Khanna year 3.
A brilliant afternoon had by all, you have made Westbury proud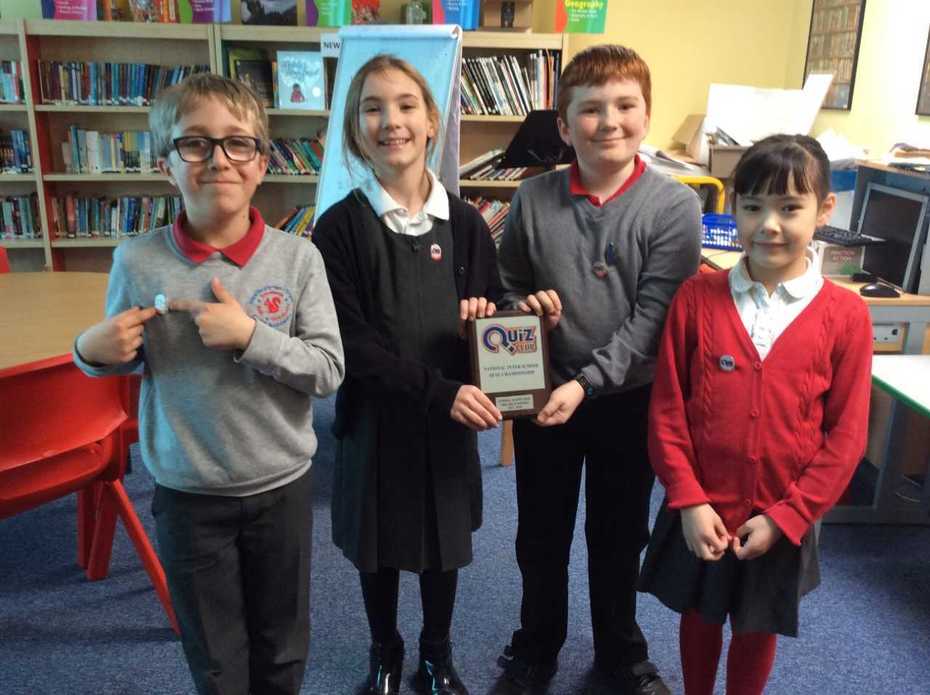 Celebrating World Book Day 2018