Welcome to Westbury on Trym
Church of England Academy
Welcome to our Website where you will find lots of information about our Academy as well as examples of our work.
Take a look at our Year Group Pages and see some of the beautiful work our pupils have been doing, or perhaps you would like to know more about a subject matter.
If you need more information about any of our policies or documents then please download them from the Parents Section of our website.
Whether you are a prospective parent looking at Primary Schools or whether you are already part of our community, we hope that the website will provide you with an insight into Westbury on Trym Church of England Academy.
Our School officially became an Academy in August 2011, which means we remain a state funded school under the aegis of the central government rather than the local authority.
Striving for Excellence, enriching our Faith,
cherishing our Community
WoT Academy @WoTAcademy
19 Mar https://t.co/hwD4yhzKf3
19 Mar RT @FOBFS: Late Start for all @bristol_free pupils today. School open from 10.15am ready for a 10.30am Start #safejourneyineveryone
19 Mar WE ARE OPEN AS USUAL please can all children have coats and long trousers/tights as still very cold ❄️☃️❄️☃️❄️
18 Mar @DavidNCousins @bristolpenguins @eaEastonLC 🎉
18 Mar RT @exultatesingers: We're very sorry to announce that tonight's concert is postponed. It's incredibly disappointing but we need to conside…
18 Mar Lovely to see our former pupils Lily and Jemima #wotsport https://t.co/ogxU5sBolT
18 Mar RE week M-F
17 Mar https://t.co/FlT6emsjd2
16 Mar RT @WickedWeather1: Loved discovering about #ArcticExplores #icemelt #risingsealevel @WoTAcademy this week! Fab #BSW18. @UKSINet @Science…
16 Mar RT @DavidNCousins: A brilliant Round 2 of @bristolpenguins and Portway Primary School Gala @eaEastonLC last night. A packed gallery, great…
Latest Calendar, Wots on at WOT Events
Easter Service in Church

23

Mar

2018

12:00 am - 1:00 am

End of Term 4

23

Mar

2018

Good Friday

30

Mar

2018

Easter Day

01

Apr

2018

Easter Bank Holiday

02

Apr

2018

12:00 am - 1:00 am

Easter Holidays

03

Apr

2018

Term 4 begins

09

Apr

2018

Pre School Session

09

Apr

2018

1:30 pm - 2:30 pm @ Westbury on Trym CofE Academy

Pre School Session for children starting September 18
NEWS JUST IN...................
On Wednesday 14th March, WOT entered two teams in the National inter-school general knowledge quiz.
It became the battle of westbury as both teams took it in turns to be either 1st or 2nd.
Finally westbury 2 won with an impressive score of 1735 points, over 100 points ahead of the team in 3rd place. Westbury 1 came a very close 2nd!
The winning team members were, Daniel Smith Year 6, Olivia Clark year 5,Nicholas Proctor year 4 and Grace Harris year 3. "it was really fun but competitive" remarked Olivia "it was very tense" explained Nicholas, Grace confessed she was a little nervous but excited, whereas Daniel as a quiz pro, having taken part in 5 previous quizzes, just took it in his stride. Well done team!
Well done also to team westbury 1 who were only just pipped at the post. Their team was Rory Davison year 6, Issie Lloyd year 5, Jennifer Horner year 4 and Ruhi Khanna year 3.
A brilliant afternoon had by all, you have made Westbury proud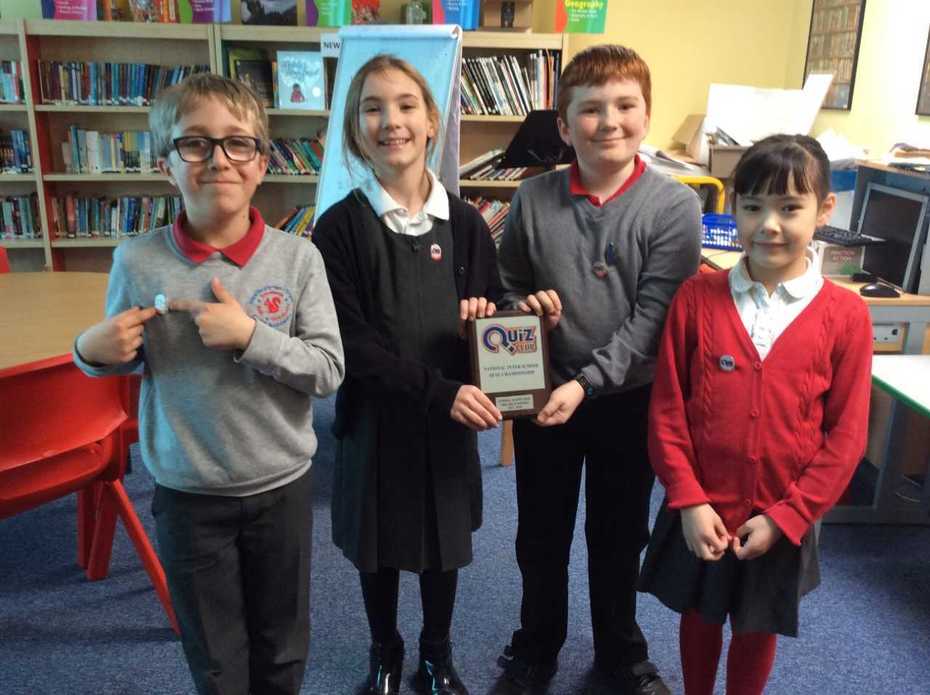 Celebrating World Book Day 2018