Big Bake Competition
Big Bake Competition
15 January 2018 (by Clare Warbis (clare1234))
Big Bake Time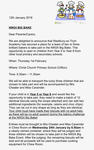 Dear Parents/Carers,
We are delighted to announce that Westbury-on-Trym Academy has secured a place for a team of two or three brilliant bakers to take part in the NW24 Big Bake. This opportunity is open to children from Year 5 to Year 8 from other local primary and secondary schools.
When: Thursday 1st February
Where: Christ Church Primary School (Clifton)
Time: 9.30am – 11.30am
We will be able to transport the lucky three children that are chosen to take part and will be accompanied by Mrs Cheater and Miss Cavender.
If your child is in Year 5 or Year 6 and would like the opportunity to take part, they need to make a batch of 12 identical biscuits using the recipe attached and can add two additional ingredients (for example, raisins and choc chips). They can be cut in any shape as long as they are identical. Your child must have made their biscuits with no adult help, as there will be no adult support during the baking challenge at the NW24 Big Bake!
Entries must be brought to Mrs Cheater and Miss Cavender in Chew Room on Wednesday 24th January by 8.50am in a clearly named container, where they will be judged and three children will be chosen to take part in the NW24 Big Bake Event. After the judging, the remaining biscuits will be sold and all proceeds will be used to purchase cooking equipment for Chew Room.