Big Bake NW24 Competition
Big Bake NW24 Competition
9 February 2018 (by Clare Warbis (clare1234))
Well done to our star bakers.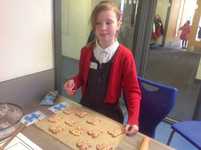 Our participation in the NW24 Big Bake was a great success! Alyssa, Harley and Miriam worked really well as a team, creating a delicious selection of raspberry and whites chocolate Super Squirrel biscuits. They went on to design and decorate a presentation box, with which they continued the squirrel theme and incorporated the Westbury Ways.
Although the St Johns team were judged to be the overall winners by a cake decorator from Anna Couture Cakes, Clifton, all those that attended the event were given the opportunity to taste the entries and our entry was a big favourite too.
Mrs Neville and I were incredibly proud of Miriam, Harley and Alyssa, who represented our school brilliantly and demonstrated buckets of enthusiasm and team spirit, as well as being respectful and friendly towards the other competitors.