Quiztastic
Quiztastic
15 March 2018 (by Clare Warbis (clare1234))
You have probably heard by now that Westbury swept the board at the Quiz Club heat this afternoon, achieving both 1st and 2nd place! It was a very exciting afternoon and I think parents and supporters were more on edge of seats than the children.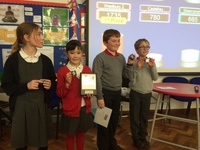 On Wednesday 14th March, WOT entered two teams in the National inter-school general knowledge quiz.
It became the battle of westbury as both teams took it in turns to be either 1st or 2nd.
Finally westbury 2 won with an impressive score of 1735 points, over 100 points ahead of the team in 3rd place. Westbury 1 came a very close 2nd!
The winning team members were, Daniel Smith Year 6, Olivia Clark year 5,Nicholas Proctor year 4 and Grace Harris year 3. "it was really fun but competitive" remarked Olivia "it was very tense" explained Nicholas, Grace confessed she was a little nervous but excited, whereas Daniel as a quiz pro, having taken part in 5 previous quizzes, just took it in his stride. Well done team!
Well done also to team westbury 1 who were only just pipped at the post. Their team was Rory Davison year 6, Issie Lloyd year 5, Jennifer Horner year 4 and Ruhi Khanna year 3.
A brilliant afternoon had by all, you have made Westbury proud