PTA and Fundraising
Committee email: WOTPTA@gmail.com
Chair: Becca Sewell
Vice Chair: Alison Dyer
Treasurer: Jenny Pearson
Secretary: Jo Jenkins
Teacher Liaison: Amanda Cheater
If you use Facebook, then please see our page HERE
If you would like to volunteer to help then please see HERE
To follow the WoT PTA Facebook page visit:
https://www.facebook.com/140378006005190/posts/4070627229646895/?d=n
Latest PTA News
Dear parents and carers.
To provide you with a clear picture of how much funds we raise from our events and where this money is spent, we are pleased to share with you the first of 3 WOT PTA reports scheduled for 22/23.
Please see our value chart for Terms 1 & 2 with a thank you note from our Chair, Rebecca Sewell and Co-Chair, Alison Dyer-Jones.
Many thanks
WOT PTA Committee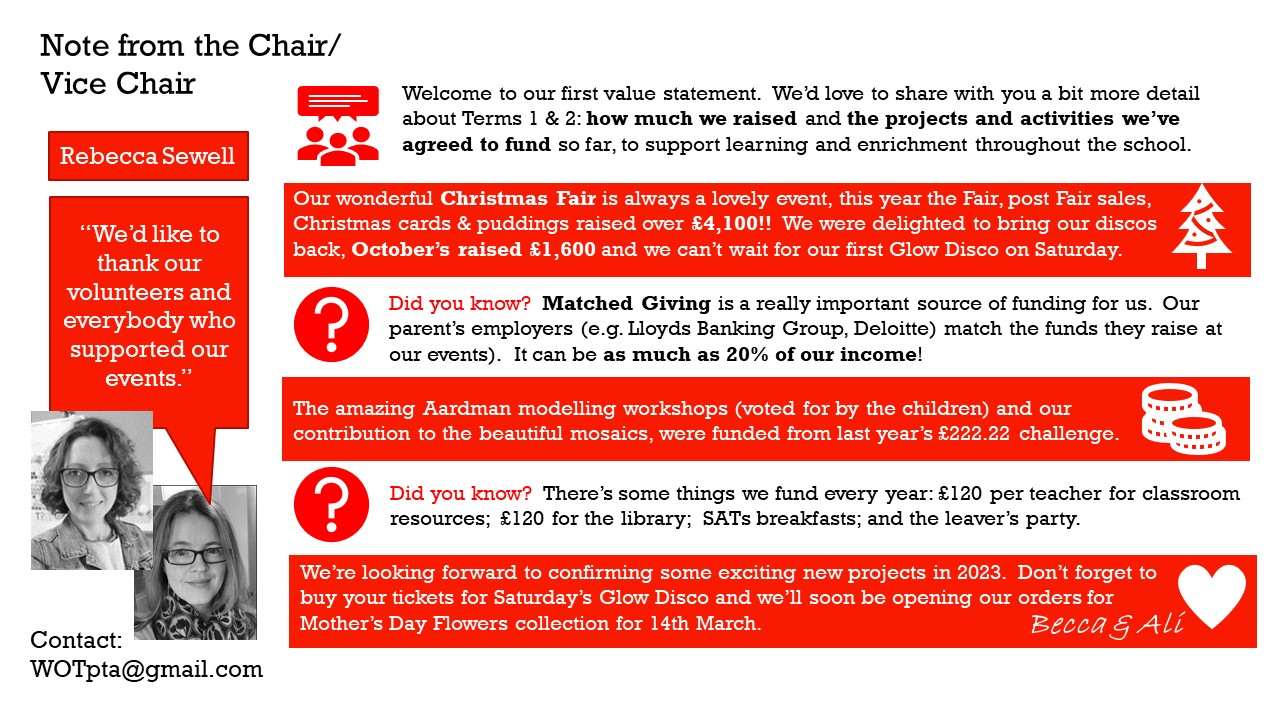 All of this is due to your support at each of our events and on behalf of the PTA and the teachers, we would like to thank you for your generosity and time!
DO YOU LIKE SHOPPING @AMAZON AND RAISING MONEY FOR OUR SCHOOL? THEN LOOK NO FURTHER....JUST CLICK HERE
WOULD YOU LIKE TO SAVE MONEY ON YOUR GAS AND ELECTRICITY BILLS AND HELP SUPPORT THE SCHOOL? CLICK HERE TO FIND OUT MORE!
PTA Minutes
PTA Fundraising Achievements
Red Squirrel Day raised £4000! This is a massive achievement - thank you so much to everyone who supported us.
The Christmas Fair: Thank you to everyone who volunteered and supported. We raised +£2700
The school disco: raised over £1,200 !!
Fantastic results - thank you everyone for supporting these events.
Sports / Olympic Week
Wow! What a superb week at Westbury-on-Trym Academy's Sports Week/Olympic Week! All of the children took part in a phenomenal amount of events and activities and, truly, showcased the values of the Olympics: friendship, excellence, respect, courage, determination, inspiration and equality.
Our week kicked off with the children taking part in a sponsored fitness circuit with GB's Olympic Decathlete Matt Lee. The children managed to raise an incredible amount of money with Sports For Champions UK! Overall, we raised a whopping £4,353.51! AMAZING!