After school Club
Welcome to WASC - Westbury After School Club
Welcome to Westbury After School Club (WASC) – our sessions are run by a fantastic group of playworkers who offer fun, interactive and interesting activities for children in all our school years, with the emphasis very firmly on PLAY!
The club meets on the school premises after school every weekday until 6pm, offering a range of interesting and fun activities for children including arts, crafts, games, board and electronic games, films and reading as well as use of the outdoor school play areas in good weather. If your child attends a separate after school activity they can come to WASC after that has finished – please note you will have to pay for a full session.
Responsibility for running the club rests firmly with parents and carers and is overseen by a very dedicated voluntary parent management committee, who are working parents with children at the club. The committee supports the good work done by the play team and ensures the viable and regulated running of the club, which is Ofsted accredited. Each committee member is responsible for a key aspect of running the club – safeguarding, staffing and finances. We invite all parents to attend our AGM – details will be shared with you nearer to the time.
Each session costs £11 with reduced rates at WASC for 3 children or more and there is a separate annual administration charge for all users of the club.
Like all of us, WASC was impacted by lockdown – we worked hard to keep the club running for key workers during both lockdowns which was a real challenge but one we were committed to. We also saw a drop in demand for the services of the club throughout the Work from Home period but we're delighted that this is increasing now and we're back to running at almost full capacity on some days of the week.
Booking
At the moment, there is a limit to the number of places we can offer due to availability of space and staffing levels, though we are working on plans to expand the provision. Therefore, we would encourage you to book and pay for your sessions at the club as soon as possible – Monday and Fridays are always quieter days compared to midweek. Bookings are released on the 3rd Friday before the end of each term and you will receive communication from us in advance to remind you of this.
If you are looking to book a session for your child with WASC for the first time then please contact our administrator Kate Plessier, at wasc400@gmail.com for more information about how to register on our booking system.
We look forward to welcoming you to the WASC family.
Judith Thorne
Chair WASC Committee
After School Club **UPDATE**
From Term 5 2023, our after school club provision will move to Shine myshine.co.uk.
A sample programme of the types of activity that will be on offer from April can be found below.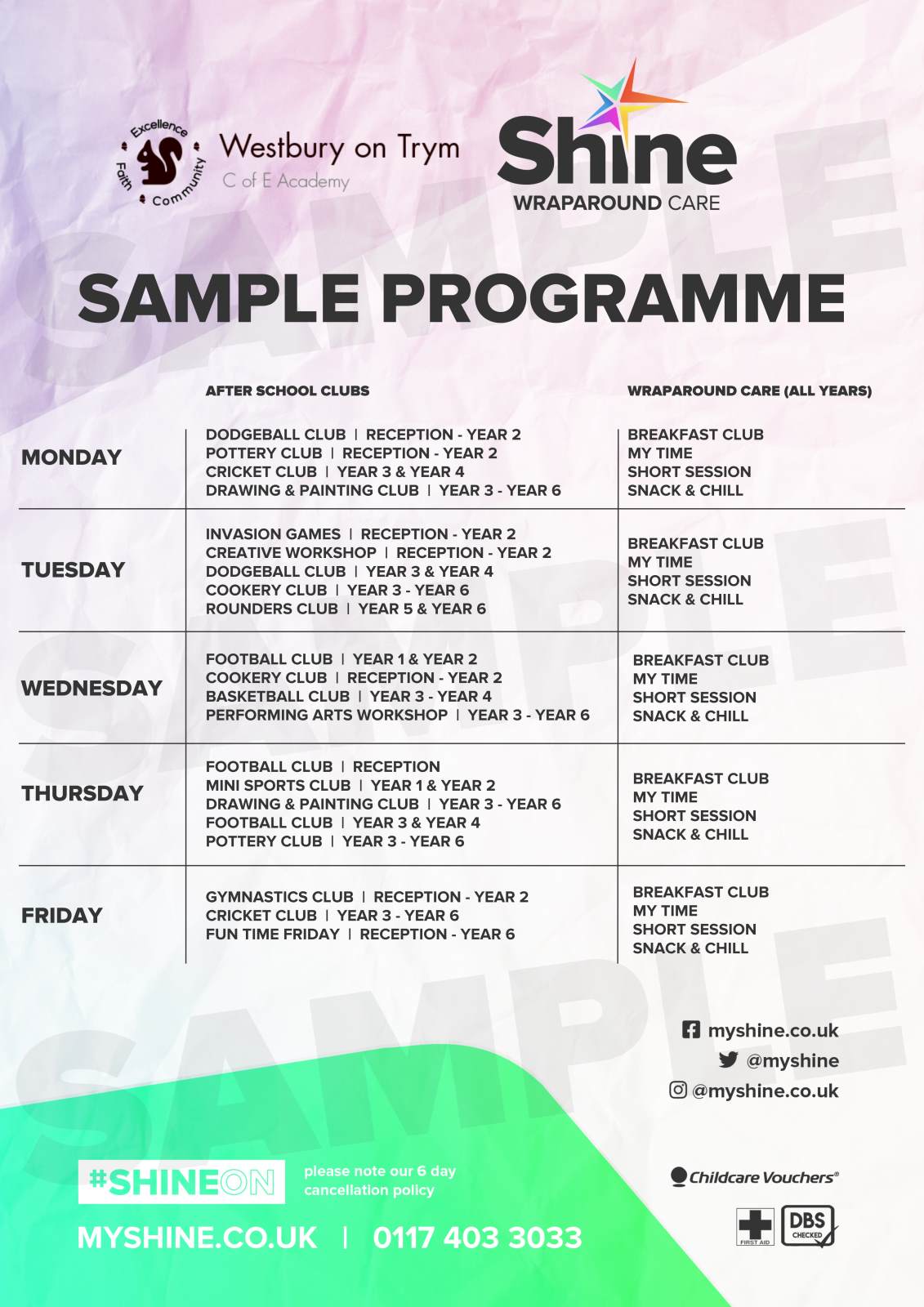 If you have any queries or questions, please email info@myshine.co.uk or click here for FAQs.
Shine provision will run alongside the school-run after school clubs that will continue to run as per previous years until 4.15pm.