Year 1
Welcome to Year 1.
Our classes are 1LD Miss Richards and 1CL Mrs Cheater and Mrs Lougher
Mrs Poole and Mrs Stagg are our Teaching Assistants
PARENT AND CARER INFORMATION
Year 1 Term 4 Curriculum Overview
Year 1 Term 3 Curriculum Overview
Year 1 Term 1 Curriculum Overview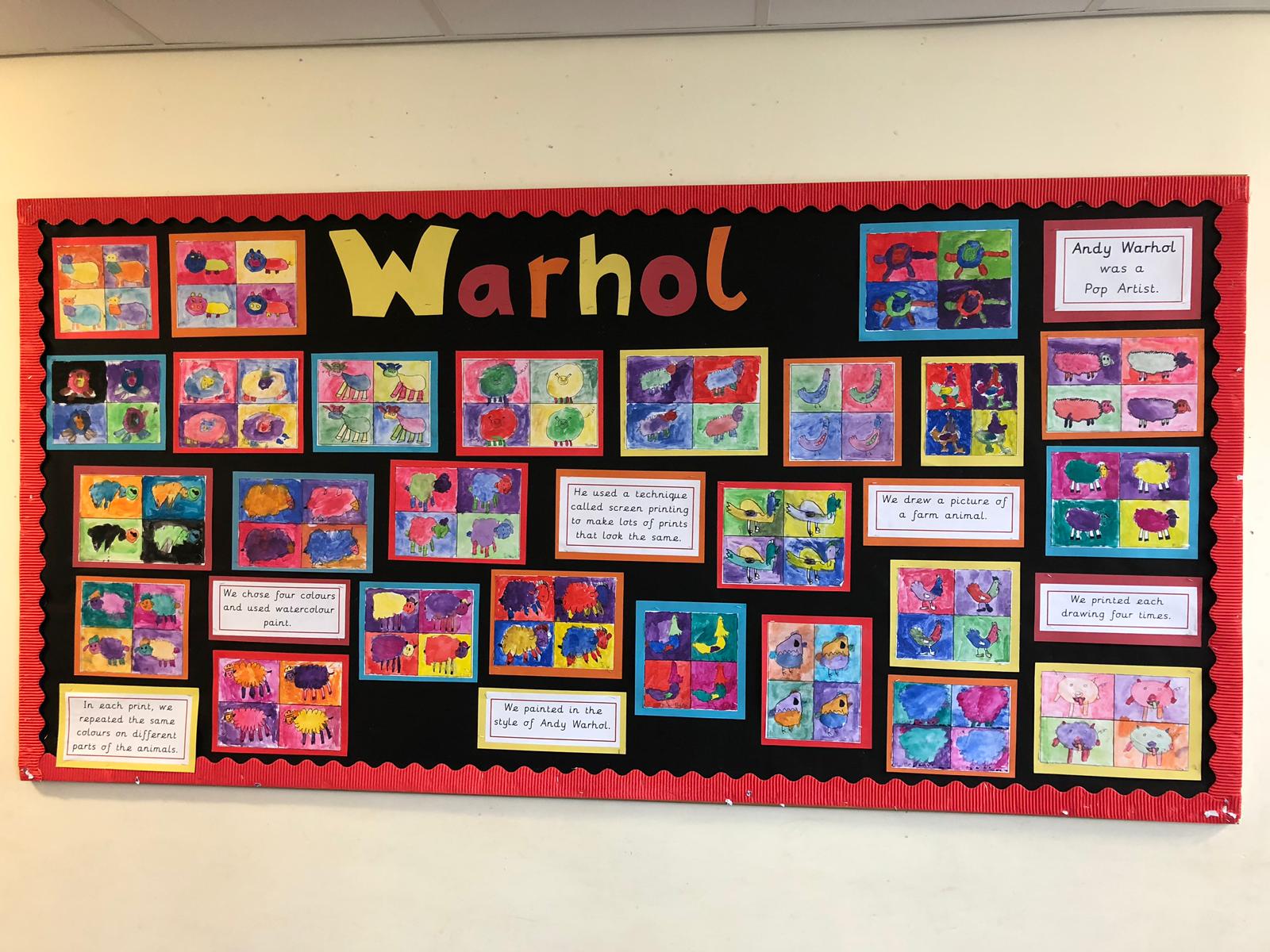 We have been using repeating print techniques and painting with watercolour paints to create paintings in the style of Andy Warhol. We have used the theme of our 'Down on the Farm' Topic for inspiration!
In maths we have been learning more about place value. We have been using equipment to help us see the number of tens and the number of ones in a number. We have also been comparing numbers and deciding which is more or less.
As part of our Farm topic, we have been learning about animals and their babies. We have hatched seven chick eggs in our classroom and learnt about the lifecycle of a chicken. We have kept diaries of the chicks as they grew.
Our topic for Term 4 is Down on the Farm.
We have our Year 1 class farm shops to sell farm produce.
At the beginning of the term, a farmer delivered some Blue Maran chicken eggs and the chicks hatched in their incubator.
We had an immersion day where we enjoyed looking at farm books, making farm animals with play dough, playing with our new toy farm, playing farm games on the iPads, shopping at our class farm shop and print making with vegetables.

In term 3 our topic is Polar Adventure.
We had Arctic Base Camps in our classrooms and carried out a science experiment to find out the best material for gloves to keep our hands warm.
A grandparent came in to talk to us about his expedition to the Antarctic 50 years ago!
The Arctic came to Westbury and we had a whole day at school to enjoy playing in the snow!


During PE, Clifton Rugby coaches came in to teach us some skills to play tag rugby!

For English and DT, we have followed instructions to make a jam sandwich with a partner and then enjoyed eating them!

As part of our learning about our senses in science, we did an experiment investigating whether we taste with our tongue or our nose!